2017 in photos (part 1)
So 2017 was a busy year for me. In total, I have taken 52786 photos this year, well this is how many are in my 2017 photo folder. This doesn't include the photos I took whilst working at Banff Photography. This is double my second busiest year of 2014 (most of which I spent in Central America) where I racked up 25943 photos.
 
Starting off with a photo shoot it did with Mackenzie and Joey.
Taking my camera to the ski hill, I asked this skier to smile, realising that was probably pointless since I couldn't see his face. Still, I like to think he is smiling under his mask.
Venturing behind the mountain. I really like this photo and it ended up being the cover photo for my blog. For me, the snowboarder, the path and the mountain symbolise forging a new path and travelling towards new unknown adventures.
I remember taking this photo and thinking to myself "soon, all this this will be a great memory".
Ice skating on the lake, another relatively painful challenge I set myself this year.
The great Canadian activity.
A great activity for couples and families.
Ice magic. I got talking to one of the Sculptors. His story was he used to work at the hotel as a teenager. Ice Magic arrived and he was so captivated by the ice sculpting he immediately pursued it and got an apprenticeship with a "mostly fake" resume. Now, 20 years later, he is a regular competitor in the competition that changed the direction of his life. I like to think he will inspire someone working in the hotel who was in his position, to take up ice sculpting, continuing the cycle.
Beautiful artwork, here today, to be gone soon. There was something very relaxing and satisfying about the whole process. The carving, sharp metal on ice. Maybe I am just weird?
Adding finishing touches to the piece that ended up winning. They are all great to be fair.
The talent show at the staff bar.
Snowboarding with friends.
Katie indoor climbing. The auto belay machines were terrifying.
Ice magic, two words that sum up this place perfectly.
Journey to the back of the lake.
Snowboarding with my bros.
The setting winter moon. The skies were particularly clear here.
It was an unusually warm week, the river was flowing under the ice resulting in the unusual aqua colour.
Lake Abraham is famous for it's ice bubbles. As this is an artificial lake, there is a sunken forest at the bottom of the lake. The decaying vegetation releases methane bubbles that get trapped and frozen in the winter ice. However the warm weather meant the lake had slightly thawed and the bubbles were no longer visible.
Bridal Veil Falls were somewhere down the hill.
Behind Bridal Veil Falls, fully frozen.
Behind the falls. We had to crawl across thick snow to get here.
Burning the shit out of apples. A great winter activity.
I might have used a bit of photoshop for this photo.
Lake Louise Pond Hockey Tournament.
An annual ice hockey tournament, being held in the highest and arguably the most beautiful town (hamlet) in Canada.
A temporary break from what was an intense sport.
Ice hockey is fast paced and very physical. Somewhat of a contrast to the calm and fragile icy backdrop.
Going to Johnson Canyon with Erika.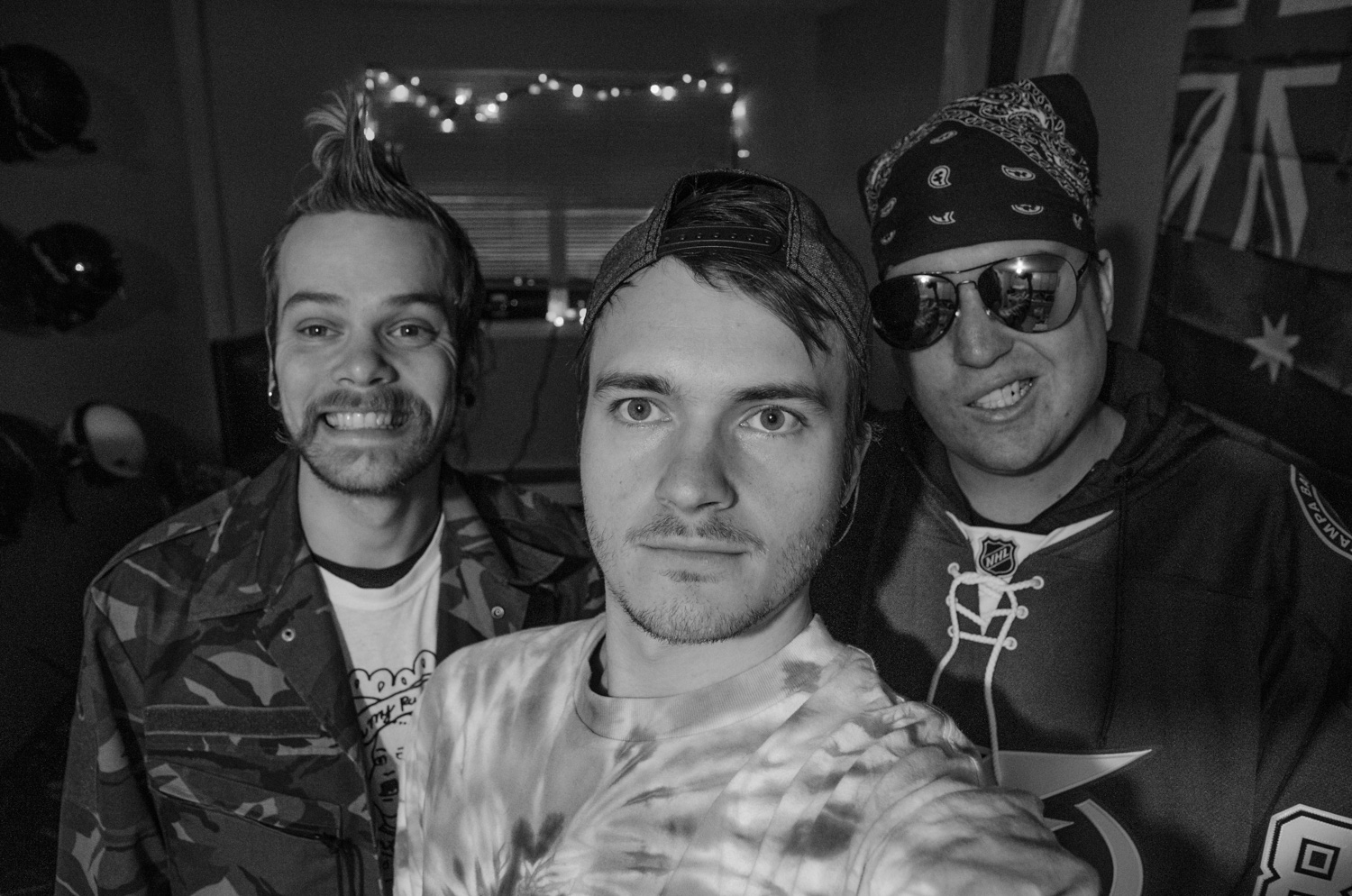 90's night with my flatmates.
Usually the music was terrible at The Stables, but tonight was decent.
The semi finals of the Lake Louise pond hockey tournament. Another one of my favourite photos.
The finals. I predicted these two teams would end up meeting at the finals. It was a close game until the Chiefs began to pull ahead.
Looking down at my temporary home. This was as far as I could climb, beyond here was avalanche country.
I photographed a bird. A whisky Jack I think? I know nothing about birds to be honest.
Riding a crazy carpet with Katie. A crazy carpet is basically a sheet of plastic with two holes at the front to dig your feet into. We hiked uphill and broke out the crazy carpet for the downhill sections of our hike to Wapta Falls.
It was actually a very energy efficient way of going downhill.
Staying with Chelsea in Revelstoke.
I always like taking portraits with a mirror. One of my favourite photos of Chelsea and I is us in a broken mirror. It is the cover photo for my About Me page. This was back on Utila, where we first met.
A cat photoshoot I helped her with. I call this photo Black Magic.
I didn't really know what to expect from staying in a trailer park, but it was very comfortable and fun.
Arriving at the ski hill in an old school bus was definitely quite the experience. Way better than a limo.
Photography antics at Revelstoke.
A pot luck at the trailer park in Revelstoke. A pot luck is a dinner party that happens at someone's house (or trailer), a group of friends get together and the host is picked at random, hence the name pot luck. Everyone brings something and overall it was a great experience.
Earth day. All the non essential lights and electrics were turned off for a few hours to celebrate Earth hour.
Taking this photo was one of the funniest things I have ever done. With my camera setup on a tripod for a long exposure I had to direct everyone to write out each letter of "Earth Hour 2017" using electric candles. I would tell everyone to get ready and they would hold there candle in the ready position, I told them to go and they would all start waving their candle in the air. I felt like I was some sort of wizard professor teaching junior wizards how to cast spells.
Towards the end of the season. Matt and I were new to snowboarding, but at this point we were getting the hang of it.
Just a cool photo of the 3 of us.
A bit of alcohol half way through a snowboarding day is just what you need.
Brad's favourite hand gesture.
The "I am going to space" pose.
More ice hockey. This was the Lake Louise team, getting battered by some other team.
It was difficult shooting through the glass, but the reflections made for some interesting shots.
Returning home for my parent's ruby wedding anniversary.
Visiting the church where it all happened. This "selfie in the brass sphere" was one of my favourite photos to show people during photo lessons around the Chateau in Lake Louise. We used the brass sphere on top of the fancy luggage trolleys scattered around the hotel lobby. It is an interesting way of photographing the whole family.
Normal family shenanigans.
Recreating an old wedding photo.
And then back to this troublesome bunch. This was the final day of snowboarding.
I wish I had a photo like this.
Katie always had the best smile.
The rise of the prairie dogs, as soon as the snow started to melt these noisy fuckers appeared everywhere.
This was always one of the best nights at The Stables.
Erika never sang though, probably a good thing.
Photographing a Health at Work Awareness Week thing.
Being safe at work doesn't have to be boring.
The Indian Chief. He was from the Stoney Nakoda Tribe.
Looking like an absolute chief. Pun intended. He was a cool guy and told me he was there every year and he also did presentations in the hotel about the history of the first nations people and about his tribe. However this year the presentations were not happening, due to a reason I was never told.
A somewhat symbolic photo?
Lake Louise is a place of 2 seasons.
The slack line, a great summer activity.
Going to Natural Bridge with Katie and Erika.
Another visitor. Martin and Katie. You might remember Martin for my US Road Trip albums. We met in Rainy's place in Vancouver and spent a month touring the US. When we returned he had a job secured in Whistler whilst I was (at the time) still looking for work. Although I was offered a job in Whistler, accommodation issues prevented me from accepting and instead I continued to look and found myself in Lake Louise.
A photo of a bird. I am not much of a "birder" but I will take the occasional photo.
Martin, conquering Martin's Island.
Lake Agnes during the spring. Most hikes are out of bounds due to avalanche risks, but this hike was accessible.
Lake Agnes exhibition team.
Katie finds a frozen river.
Not all black bears and black.
Erika and I on another 90s night.
At the top of Sulphur Mountain.
Taking the Banff gondola down from Sulphur Mountain.
Northern Lights, we saw them a few in the summer but this night was the best.
Me attempting the slack line.
Martin conquers another island and laughs in the face of danger.
The start of the softball season.
It started with me just coming down to watch a practice game. I ended up photographing most of the tournament and subbing for one of the best teams.
The moment of anticipation.
Early season team photo. Before the kits arrived.
Another karaoke night. This was when there was a power cut in Lake Louise. All the staff accommodation power was down, apart from the pub. Good to see Lake Louise had their priorities right.
I posted a photo of the karaoke night, dubbing it "Big Joe, Power back to the people night" and within minutes, dozens of people showed up.
There was always a good atosphere at karaoke night.
I think this photo sums up Joe very well.
Out on the lake. The same lake I spent the winter trying to ice skate on.
In the mountains with the lads.
The Viking looking all mighty.
Trying to recreate a dramatic scene, from something like Vertical Limit.
Up in the mountains looking down at my home.
Early season softball photos.
A very picturesque place to hold a softball tournament. Maybe the highest softball tournament in the world?
I tried out many different angles.
Cleaning up after the filthy touristses
Joe and I during Latin night. We both did a introduction class into Salsa.
Erika, she loves having her photo taken.
Rain during the softball season.
I love the drama in this shot.
Erika getting ready to bat another home run.
This is Canada. Best country in the world? Well it is certainly a contender.
Hiking up Mount Fairmont. The mountain at my doorstep.
The "Awkward Family Photo", my new favourite pose to do with groups of people. I think this was Megan's idea?
Canada day. A very Canadian photo.
Tourists having a photo with Mounties of different flavours.
There are a canoe race, for both guests and staff.
A small parade for Canada day.
The polar dip. Jumping into Lake Louise. A Canada day tradition.
Even during the summer Lake Louise is always cold, as it is glacier fed.
Preparing to hike Mount Rundle.
Hiking up Mount Rundle. Probably the hardest hike of the summer.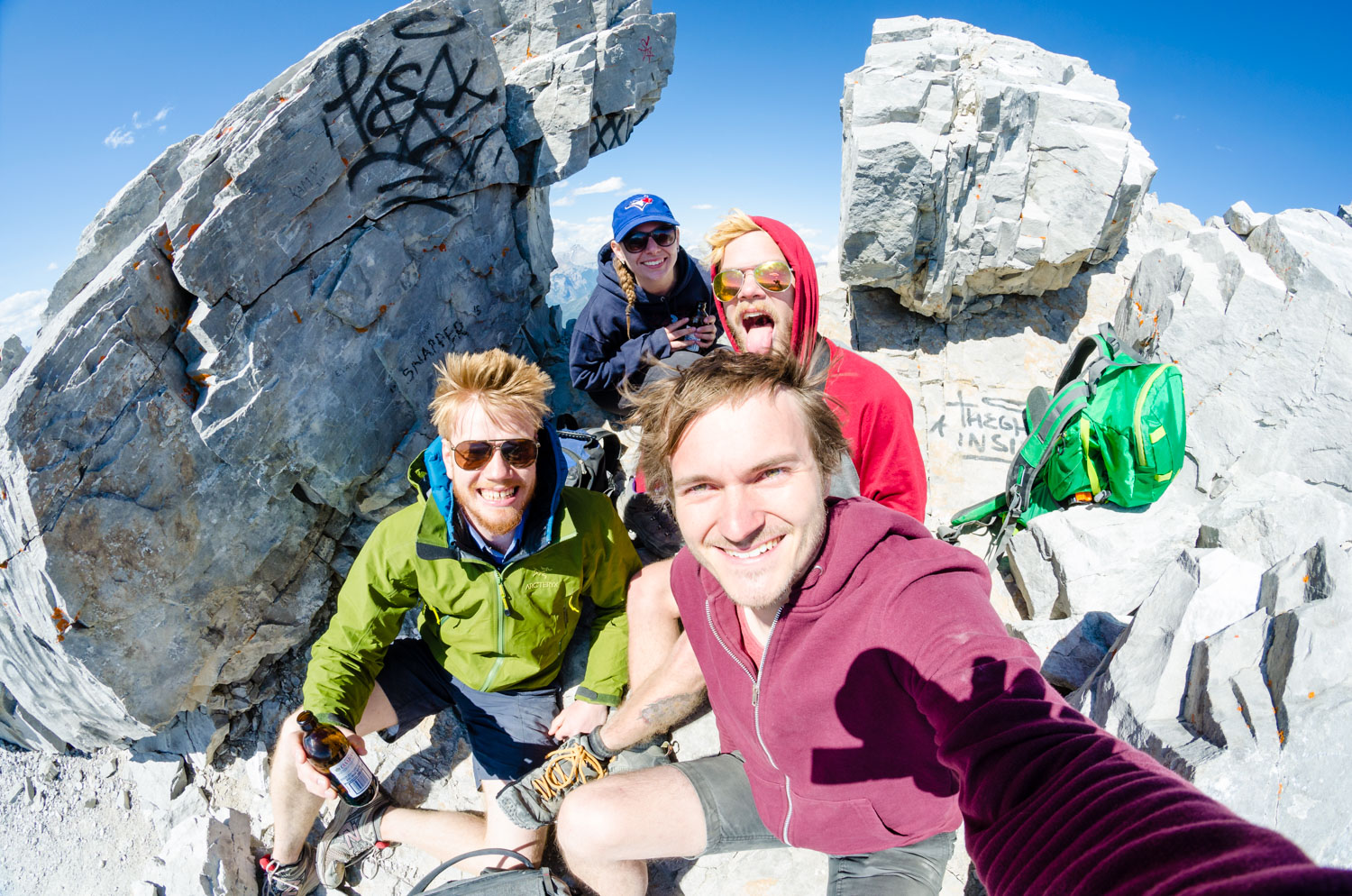 At the top of Mount Rundle.
Summit beers became a tradition.
First night of Calgary Stampede. This country singer was Chad Brownlee I think? Correct me Erika. He was good, but he was no George Canyon!
Some bloke rides a horse during the stampede.
Some bloke rides a horse during the stampede.
Another bloke rides a horse. Going to a rodeo was always on my to-do list, although I wasn't expecting to cross it off in Canada.
A man jumps off a horse onto a small cow. I bought a Nikon 200-500 lens during a staff promotion. It was the perfect lens for the Stampede, although carrying this fat hunk of glass was quite the commitment.
A man rides a bull. Body armour was not mandatory but recommended. Probably because of the horns.
Erika and I. Erika was my guide into the country life. She even bought me a plaid shirt so I could blend in.
There was a dog show as well. Erika likes dogs. These dogs were very good.
A man wearing a cowboy hat, riding a bike over a tightrope that is on fire, past a drummer who is suspended in mid air. Probably the best photo caption ever.
Another band at The Stables
Me having a go at softball. I did actually play in a few games. Where I lacked in skill and experience, I tried to make up for in running speed.
At Drumheller, a young girl is absolutely captivated by a palaeontology demonstration. I never knew Canada had such a rich dinosaur history with Drumheller being one of the most important palaeontological dig sites in the world, so much so that it is dubbed the "Dinosaur Capital of the World".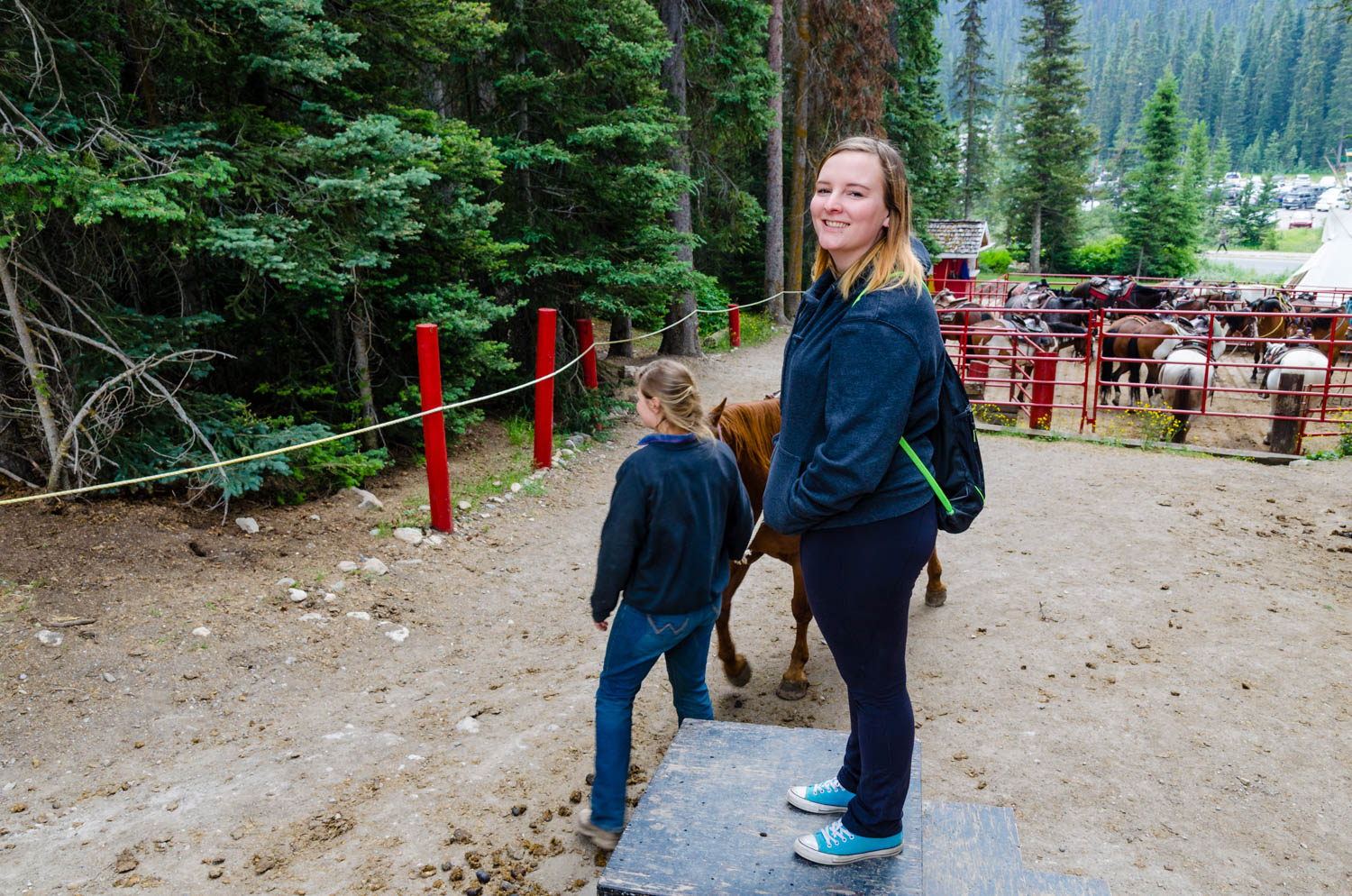 Erika waiting to mount a horse.
Erika and I ride some horses to the back of Lake Louise. Not quite as dramatic as The Stampede.
Another softball photo, one of my favourites of the year.
Erika and I went on a hike to the back of P6 (plain of six glaciers). The area beyond the back of Lake Louise.
We came across a strange snow cave. This was a creek that had been filled with snow over the winter. During the summer, a small stream formed in the creek and begun to melt the snow from within.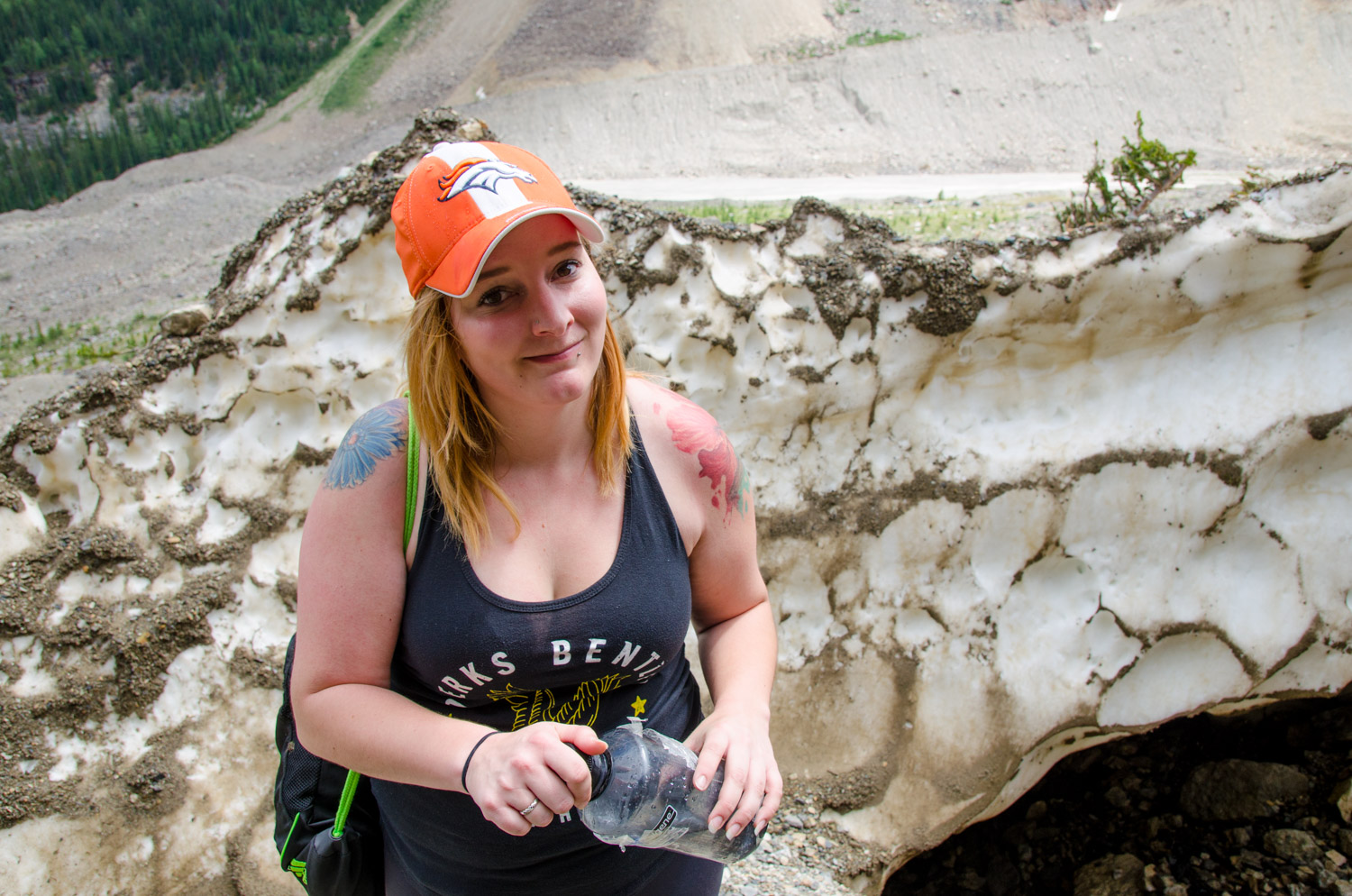 Erika gave me this look a lot.
Selfie at the top of the snow cave.
Within the snow cave. This cave was gone within a few weeks.
Towards the back of P6. The Fairmont was pretty far from here. It was a bit bitter sweet making it to the back of P6. Here, you can see what is basically left of the "6 glaciers". The effects of climate change are painfully obvious here.
At the very back of P6, I scrambled up a hill and traversed a narrow ledge. All for a terrified selfie.
A photo I took in the morning showing Lake Louise and the Victoria glacier through the reflection of a glass ball. In some ways you could say this photograph has deeper meaning, Victoria glacier is a fragile environment, glaciers are melting away at an alarming rate and without the glacier Lake Louise would also not exist. The environment in the glass ball is fragile, as is the glass ball itself.
Morant's Curve. A train spotters paradise.
Action shot involving a train and softball. Not many photographers can deliver that!
Later in the season the low sun made for some fantastic lighting.
Strathmore Stampede, further expanding my country experience.
This stampede was more low key than the Calgary Stampede. It had a more red neck authentic feel.
There was a dog show here as well, only these dogs were shit at being show dogs.
The idea was to jump over the fence, not straight through it.
The bull run, imagine dodge ball but with a few angry bulls instead of balls. The idea was to remain in the circuit for as long as possible without being completely taken out by a bull.
The chuck racing. Definitely my favourite event.
So here is how the race works. Each team has a wagon driven by 4 horses, there are also 2 outriders (single blokes with a horse). At the start of the race, the outriders "break camp" by throwing a camping stove into the back of the wagon. The wagon then has to negotiate a figure of 8 around their barrels and then it is a straight dash around the circuit with the first wagon crossing the finishing line wins.
Kelly Sutherland, a big time player in the chuck racing world and this year was going to be his last.
Another serious hike with Megan.
Thug Life. The Lakers crush another opponent.
I like photographing sport because of the drama you can capture in a single shot.
And it is also fun and games.
Erika getting ready to Kos Smack the ball. I am so funny.
The Lakers came first in the tournament but lost in the playoffs.
GoodWood came third in the tournament and went on to win the playoffs.
I asked the to raise their arms because the first photo made them look like they were all taking a piss.
Lake Louise Softball Champions 2017.
The famous Moraine Lake, at the start of our hike of Mount Temple.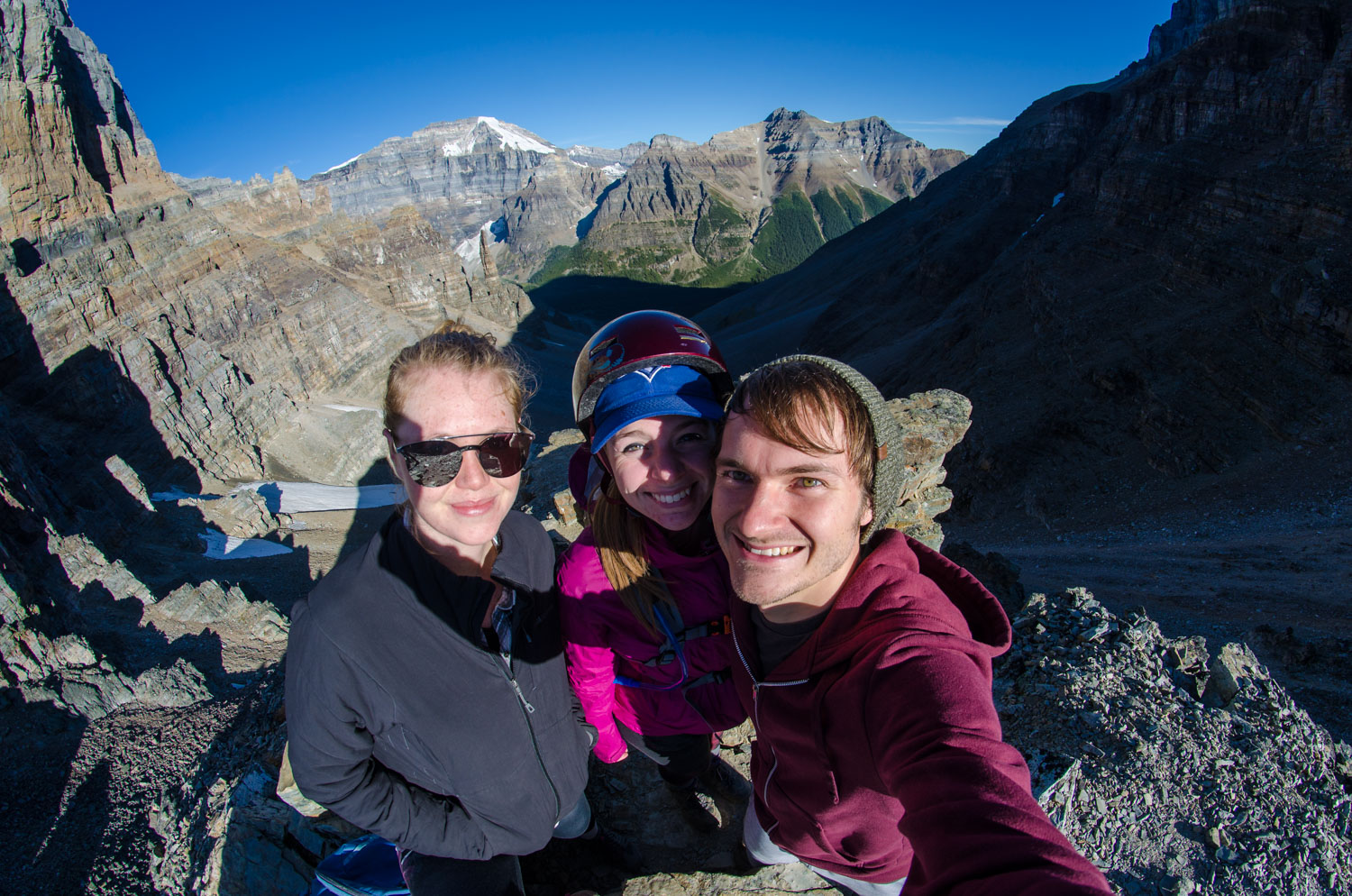 A the top of Sentinel's Pass, the base of Mount Temple.
Climbing Mount Temple. This was my big hiking goal of the summer
One part of the hike required scaling a steep wall. I was pretty terrified whilst taking this photo.
Just going out for a spot of exploring.
Selfie on top of the ice cap. That feeling you get when you conquer a big peak makes the struggle totally worth it.
It was the year of the Broncs.
A curious looking lemur at Calgary Zoo.
A sinister looking lemur at Calgary Zoo.
I dragged the 200-500 lens to the zoo. As a photographer, I felt quite well endowed carrying this beast around with me, compared to the other photographers with their tiny 70-200 lenses.
A surprisingly good photo of a tiger through glass.
The Kosmacks take me to a American Football game.
Sorry, Canadian Football, I will always get that wrong.
Some action. There wasn't much to be fair.
I think the cheerleaders burnt more calories than the players.
I found the cheerleaders fasinating.
At the top of Devil's Thumb, looking down over the Plain of Six Glaciers.
Erika looking impressed with me whilst I play with my lenses, whilst we have tea in the Lake Agnes Teahouse.
Erika and I on top of Big Beehive
A slightly scary confrontation with an elk. I was following the strange sounds until I accidentally bumped into this guy. I begun to walk back to the lodge and he started to follow me. When I was near the cabin he began to run towards me. Luckily he was actually only running to get up the hill. Really I don't think he was all that interested in me, he just happened to me going the same way as me.
Jasper was full of elk, they woke us up at 2:00am in the morning, shouting through our bedroom window.
The northern lights over Peyto Lake. We were just a bit too far south to see the really strong northern lights. Only occasionally did they come this far south.
Joe, teleporting through dimensions.
Megan and I on our last hike of the summer.
Watching the weather role in over the valley. In some ways this was fitting for my last hike in Lake Louise. I was leaving at the end of summer, and seeing the weather change and for a snow storm to roll in made me feel like my time here was coming to an end.
My Lake Louise leaving party. I can't really put into words what this meant to me. I was truly humbled.
Trying to do the serious family photo pose, but people kept laughing
Thank you so much, each of you, and those who couldn't make it for the leave party. You made Lake Louise a special place for me that I will never forget.