My year in Lake Louise
Leaving Lake Louise was hard, admittedly a lot harder than I thought it would be. I guess now that I have left Lake Louise, it is easier to look back and appreciate all the things I took for granted.
The Job and Staple income. A lot of my time was spent in the shop, selling SD cards and advising technophobic Australians on how to use their cameras. Group photos for tour groups kept us busy in the summer, going out, setting up the lighting and organising coach loads of Australians/Americans/Japanese tourists became a daily habit. We would normal take 3 photos and instead of saying "cheese" we would say "rockies", "whiskey" and "sexy". I always found the "whiskey" photos came out the best. I also did some portrait work. Clients varied from young couples to families to older couples. Each shoot was different, depending on the conditions outside and the clients. Young couples were the easiest to work with, whilst families with young kids were a little bit more tricky. Regardless, I always enjoyed shooting portraits.
The Flat, the pokey little basement apartment that I called home, with its tired furniture and broken light bulbs. Although "the dungeon" as we called it did have a certain charm. I particularly liked the lazers that Matt had attached to the wall, we used these occasionally when we had guests over. I defined the turning on of the lazers as activating the dungeon's "party mode". I also liked our snowboards hanging up on the wall that went in order of price. Matt's snowboard, along with the rest of his gear, was new and top of the line. From his pristine white snowboard to his chrome finished full face helmet. Boarding with Matt and his full face helmet was like boarding with Darth Vader's young nephew. Brad's snowboard was in the middle, an experienced snowboarder with the gear to match. Nothing too fancy or new, but the right gear for the job. My snowboard was at the bottom, a second hand board I found in a discount sport shop in Vancouver. Slightly old, definitely not in season but it did the job. I think my whole snowboarding kit probably cost less than one of Matt's boots.
The staff canteen known as "the bean", I often complained about the quality of the food at this place, even throwing my food away and storming out one particularly grumpy afternoon. I did also find a piece of metal in my food, a pellet sized piece of steel that fell off some food preparing machinery. But I did like the bean. It was convenient and always a talking point. There was a number you could phone to here a voice recording of what was going to be on the menu. This recording was always almost completely impossible to understand, like trying to intercept distant radio waves. "Today at The Bean, we are offering.....buzz......rice.....buzz.....potat.....chick and....buzz....something.....enjoy your......buzz"
The Stables, the staff pub that I had a love/hate relationship with. Really this place could have been so much more, they did try and occasionally put together a good night. But more often or not poor music choices often resulted in an unsatisfactory night at The Stables. Rock Night was a particularly good example of bad music, the DJ (a very generous use of the term) had opted to play 90s pop such as Spice Girls and Aqua instead of the prescribed rock genre. I was so angry that I posted a comment on the Lake Louise Social Page proclaiming that my mum could have done a better job DJing that night, a comment I still stand by. The comment got me kicked from the Facebook group. But I did have some good times at The Stables, but not because of the place but because of my friends. Bingo night with Rebecca hosting was surprisingly fun and deserves a mention. For a game based entirely on chance, I was surprisingly bad at it. Joe also took control of karaoke night, which quickly became one of the best nights on the social calendar.
Temple Pizza, the food alternative to The Bean. The take out kitchen next to The Stables. I actually really liked the food here, especially the Club Sandwich and Vegetarian Pizza, which both became a sort of running joke. With the Club Sandwich, I always had to ask for it without mayonnaise, so I guess I became known as "No mayo Mike" that guy who keeps ordering the same thing and has an unhealthy hatred of mayonnaise. Towards the end I would phone up to make an order and Andrew would answer the phone "Club Chicken no mayo?" knowing that is was me calling, my response would either be "yes" or "vegetarian pizza no olives" With the vegetarian pizza, certain people began to think I was some die hard vegetarian who had a fetish for vegetables and loathed meat and people who ate meat. In reality, I just like vegetarian pizzas.
The Ski Hill. My main source of entertainment during the winter months. At the start, it was difficult. Snowboarding is a cruel and unforgiving mistress, who punished me severely in the first few weeks for my overconfidence. But after I got the hang of it I begun to really enjoy my time on the hill. It was fun on my own but the best moments were boarding with my flatmates. Throwing snowballs, watching Matt fall over (more at the start of the season), making jokes about skiers and riding down runs together was always a blast. We would have food and beer at the Powder Keg at the bottom of the hill in the middle of the day, then go back up for another hour or so. I found one or two beers improved my snowboarding, or at least gave me that impression. Three or more beers however and the hill suddenly seemed much steeper and bumpier.
The Lake. I owe a lot to that body of cold glacier fed water. I guess without it there would be no resort. In the winter I photographed a pond hockey tournament, some of my favourite photos I have ever taken came from that event. I also learnt to ice skate (to some degree). Erika would skate circles around me and give me encouragement whilst I was falling over and cursing. I always tried to skate fast to catch her, but like 2 equal ends of a magnet she was always just out of reach. Towards the end of the season I was getting somewhat comfortable with skating but the warmer spring weather began to melt the lake, thus leaving my business with ice skating unfinished. Hence why I am currently traveling with a pair of skates, I plan on finding a frozen lake or pond in Montreal and finish what I started, so I can catch up and rugby tackle Erika on the ice.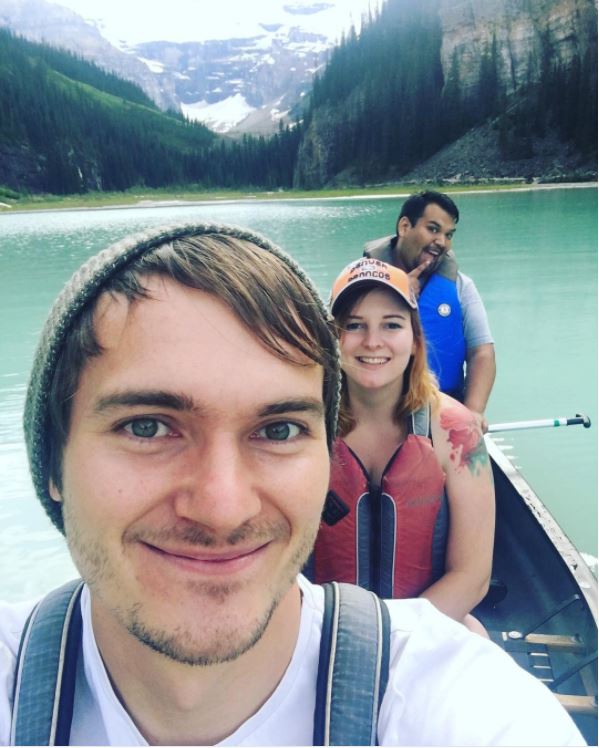 The Hiking. I was sad when the snowboarding season ended and all the snow on the mountains melted away, but hiking up the mountains was just as good as boarding down them. The views, the fresh air and the satisfaction you get when you reach the summit are all things that have to be experienced. Every time I reached a summit I would get a deep sense of pride, I felt like some kind of intrepid mountain warrior, conquering one peak after another. Mount Temple was my goal mountain for the summer, like snowboarding down the Woman's Olympic downhill run was my goal for the winter. I had set myself the goal to hike the tallest hike-able mountains in the world during my travels. Through a bit of Googling, I found an interesting page that listed some of the highest peaks that can be climbed, including Mount Kilimanjaro, Mount Fuji, Ojos del Salado and Mount Temple. Mount Temple was always visiblestanding proud in the distance. A handsome peak with the classic pyramid shape and white snow cap at the top. We hiked it towards the end of the season, on a particularly clear and sunny day and (like everything else here) it was everything I had wanted, and more.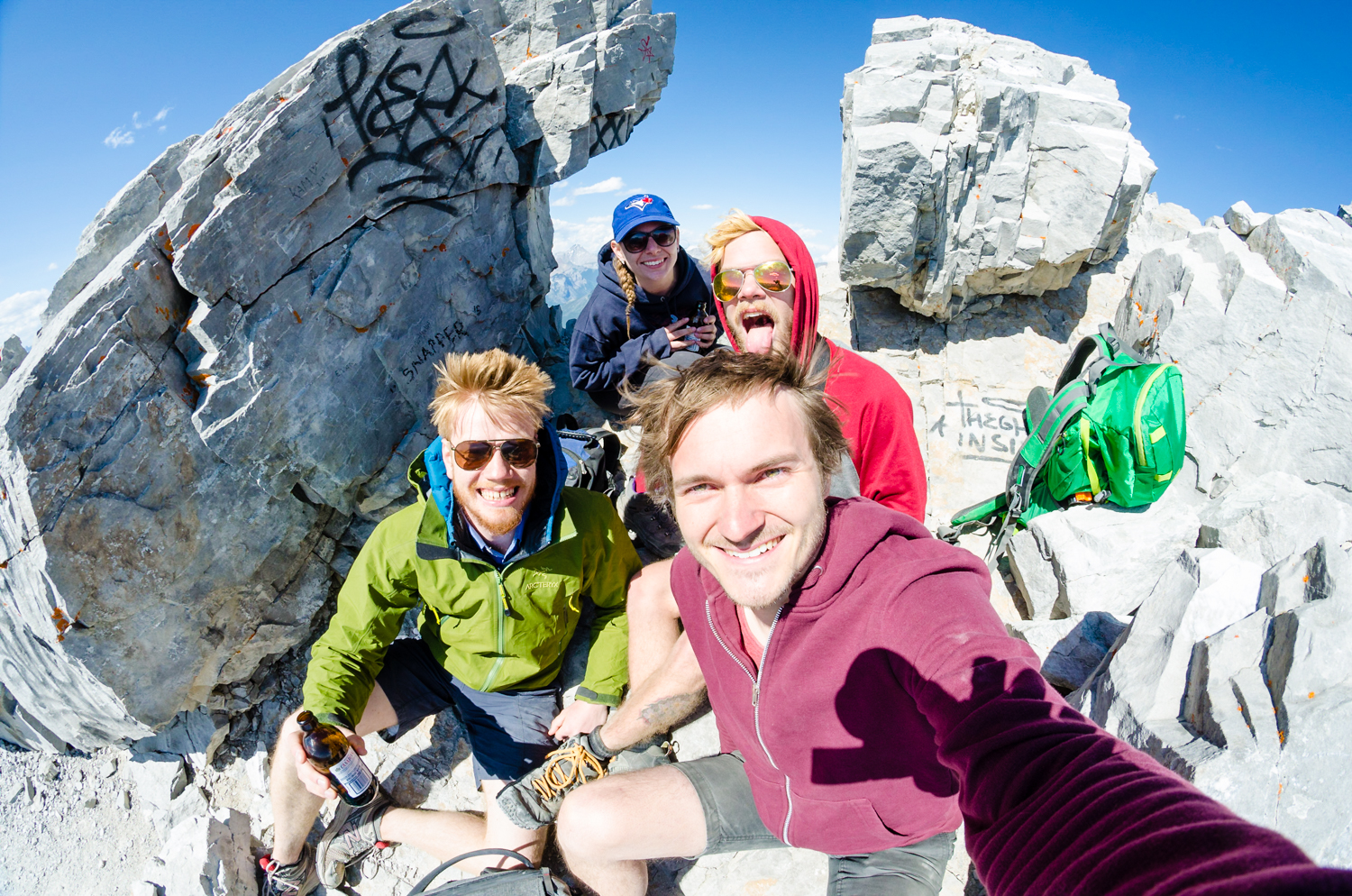 The Softball. An activity I wasn't expecting to get involved with. It started off with me photographing a practice game for Erika's team. The pond hockey tournament had ended months ago and I was itching to photograph some more sports. It didn't take long before I was photographing every game possible and I guess I became the tournament's unofficial photographer. The only thing that prevented me from photographing games was that I eventually started to play in them. Erika and her team were often looking for subs, admittedly it was tough at first. I hadn't played, or even held a bat since Secondary School and I wasn't very good at catching, but where I lacked in skill and experience I tried to make up for in running speed. And towards the end of the season, I'd like to think that I was an okay sub, although I will let Erika be the judge of that one.
So I had done a lot during my time at Lake Louise and all those weren't too difficult to leave. What was a challenge, was leaving the people. The people behind the scenes of all these activities. The people who I worked with, who I lived with, who I ate at The Bean with, who I went to The Stables with, the people who mocked my vegetarian pizzas, the people I snowboarded and skied with, who I ice skated with, who I went hiking with, who I played softball with. I mentioned some but there are so many more I haven't mentioned. Leaving them behind was painful, to the core. It left me wondering, why do I do this? Why do I keep finding perfect places with perfect people, then packing up and leaving them all behind? Traveling alone is hard and lonely at times, but it is also what brought me to Lake Louise in the first place and brought these fantastic people into my life.
I guess what I am trying to say in this rather long blog post is, thank you, thank you to all of you, and that I can't wait to see you all again soon.